April 2023
ANEW is now a Climate Smart Certified business!  ANEW is proud to announce their successful completion of the Climate Smart Training and Certification program. This award-winning greenhouse gas (GHG) emissions reductions program from BMO Radicle Inc. enables businesses to transform into sustainability leaders while reducing business costs. ANEW has joined a growing network of 1200+ businesses and organizations, both in Canada and the US, who are sustainability leaders in their respective industries. To date, Climate Smart certified businesses have achieved an average of 24% emissions reductions against baseline, and $4.7 million (CAD) in total cost savings.
The Climate Smart program provides a unique combination of training, tools, and technical assistance to enable companies to measure and reduce their GHG emissions, make informed decisions to invest in efficiencies, and communicate their sustainability initiatives in a compelling and data-driven way. This unique approach equips companies with the tools to analyze, measure, and reduce emissions and develop the capacity to lead the emissions reduction charge internally.
In completing this program, ANEW joins other industry leaders in meeting emissions reduction objectives that benefit the environment – and their bottom line.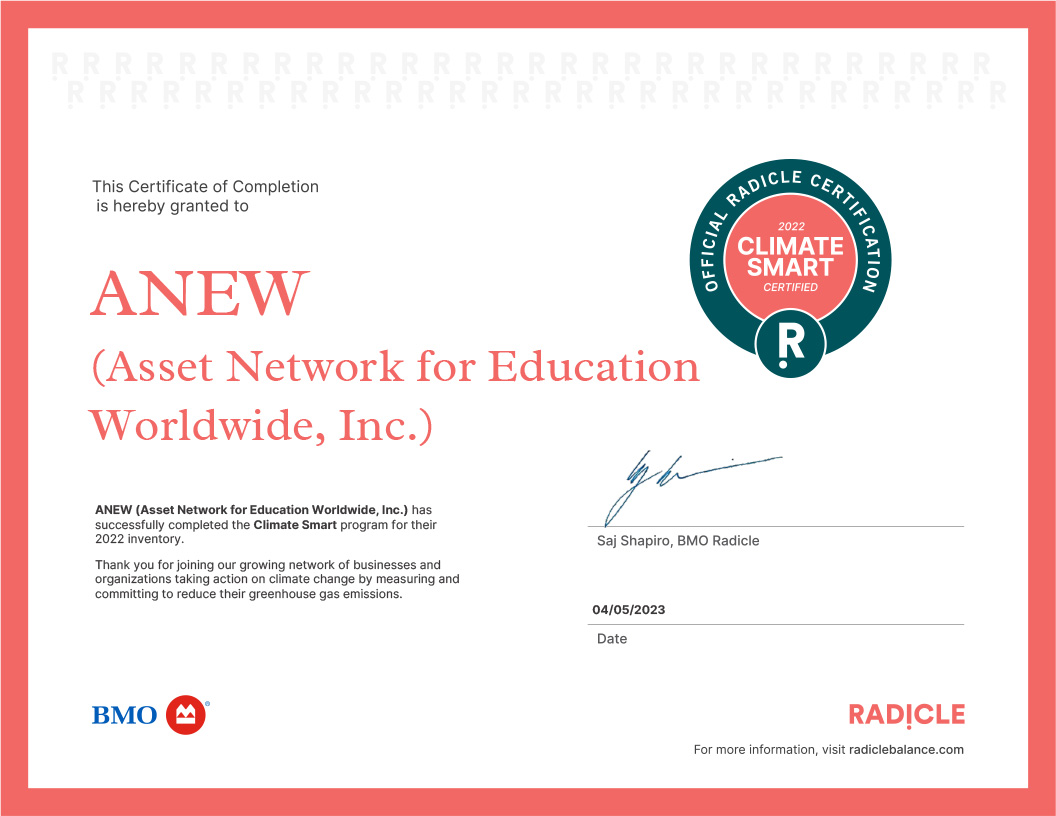 BMO Radicle helps guide today's progressive companies toward tomorrow's sustainable future. From our early beginnings in Calgary, Canada, when we developed one of the world's first software platforms to measure, qualify, and aggregate greenhouse gas emissions, we've now taken root internationally to leverage data, insights, and technology to safeguard our shared tomorrow. In 2022, Radicle became a part of BMO Capital Markets. BMO Radicle works with businesses and organizations across all industries and sizes to enable planet-positive solutions by increasing efficiency while lowering costs and emissions. We believe that financial and environmental sustainability are two sides of the same coin: balance between the two is possible. Visit radiclebalance.com to learn more.