We are ANEW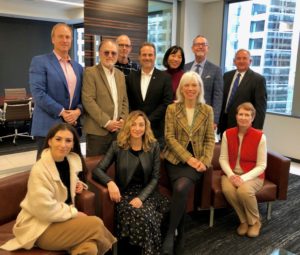 We are ANEW. Founded in 2005, we started the movement. ANEW is a 501(C)(3) non-profit organization that's doing what's right with what's left®. We empower companies to reject the status quo of liquidation to landfill, instead offering sustainable surplus stewardship solutions that include resale, recycling, and repurposing furniture, fixtures & equipment and stewarding them to charities, non-profits, public agencies and underserved communities.

Rose Tourje

Founder
Rose Tourje began ANEW after a successful career in commercial interior design. Combining extensive experience as a leading manager and strategist with a passion for design excellence, she flourished at EPR, Sussman Prejza, ISD, IA, AECOM, and Warner Bros. As her leadership role advanced, Rose found her specific niche in procurement, taking practical cost-effective & sustainable measures by sourcing locally and regionally whenever possible. This caused her to look more closely at industry practices as a whole, noting that the surplus furniture and equipment liquidation process was antiquated and overlooked. She assumed in the early days of the green movement that others were liquidating responsibly, but discovered that although companies were doing their best by reselling and recycling to a small degree, there were no wide scale systems in the works. With more study, Rose found that most unneeded materials in the construction field were being sent directly to landfill. After 30 years of a design career, she decided to leave and start ANEW. This approach furthers public services, strengthens communities and helps the environment. In addition to helming ANEW, Rose educates and advises students, companies, and the industries of the built environment about the positive outcomes and lasting benefits when social, economic and environmental responsibility are engaged. She leads by doing, starting with the end in mind.
John Hufferd
Director of Operations, Senior Project Manager
John brings many years' experience in commercial real estate to the ANEW team. With a focus on project management, facilities & relocation management and sustainable practices, his expertise is a great fit with our work. The scope of his skill and acumen are perhaps best shown in a major campus restack project he headed: relocating 1,300 employees in 25 moves from 11 locations, while renovating 300,000 square feet of commercial space in 5 buildings. John's manages projects with a high level of detail awareness, strong organization and personal engagement .

Glenn Sparks
Video Media Communications
Media veteran Glenn Sparks brings a wealth of experience in broadcast media and client relations to ANEW. He produces and directs ANEWmedia projects including ANEW short documentaries, videos  for partners and sponsors, and online marketing & development. Glenn also writes articles on sustainability and community wellness & advancement for outside publications as well as ANEWmedia.
Glenn enjoyed twenty years in the studio as recording engineer, mixer and producer, doing post-audio on thousands of commercials and working with talent as diverse as Mel Torme and U2. He also wrote ad copy, eventually going freelance to write and produce radio and tv commercials, then worked a four year stint in marketing and customer relations with Virgin Atlantic Airways, learning the deep secrets of branding from the master himself, Richard Branson.

Alicia Clarke
Bookkeeping & Finance, ANEW Senior Advisor
Bookkeeper Alicia Clarke has been in finance for over 30 years. Earlier in her career she focused on finance and tax work. Taking courses and learning by doing broadened her scope and expertise. Alicia was working for an ANEW senior advisor who mentioned that she'd be a great fit with Rose. ANEW had an opening for bookkeeper in 2007, and Alicia's been with us ever since.
She realizes the importance of organized finances, and enjoys working to help others in this regard so they can be more prosperous.

Xiomara Garza
Project Coordinator
Growing up in a household with parents who were an interior designer and architect, Xiomara has always had an appreciation for the design process and creative problem solving. Born and raised in Los Angeles, she graduated from FIDM with a degree in Merchandise Product Development and spent 5 years exploring the different facets of the design industry. A lover of the outdoors, Xiomara enjoys traversing local hiking trails, and perusing farmers markets. She runs her own seasonal cooking club with friends and others who enjoy the cooking process…and enjoying the end result! Xiomara's experiences within design and being an advocate for the outdoors culminated in her creative and earth conscience approach to her work with ANEW. 
Nicky Kaplan, LEED AP
Vice President of Business Development
Nicky is principal at Nicky Kaplan Interiors (NKI), a full service design firm specializing in all aspects of interior architecture and design. Prior to founding her firm in 2012, she worked for over a decade as a senior designer at Hellmuth, Obata and Kassabaum on projects for high profile clients such as Fox, Disney, Activision, WPP, Morley Builders and Deluxe Digital Media. In 2005 she was recognized by Perspective Magazine as one of five young 'Rising Stars' in the industry.
Nicky draws on a rich background of international experiences which have included living in South Africa, Canada and both coasts of the US as well as extensive travels. She holds a degree in Interior Design from Ryerson University in Toronto, Canada and has been practicing in all aspects of interior design since the mid 1990's. She is also a LEED AP.
Her work with Goodwill Southern California provided an opportunity to reconnect with Rose Tourje and ANEW some seven years after their initial introduction. She now joins our team as Vice President of Development.
Nicky plans to continue her work in the non-profit realm as she feels this is where design is the most rewarding. Her goal is to create 'good design for good people': environments that inspire and enrich the lives of others.

Emily Battin
Project Coordinator/Recipient Relations
A Los Angeles native, Emily grew up traveling the country and learning its history on summer road trips with her family. She's quite resourceful and runs two upcycling businesses which bring together her love of vintage objects and a desire to provide the objects a second act. One business repurposes vintage jewelry, the other rents vintage china for parties. Working at ANEW brings together Emily's passion for giving back to our communities and planet, and helping future generations become more educated and resourceful with recycling and community advancement.